Wednesday, August 29th, 2007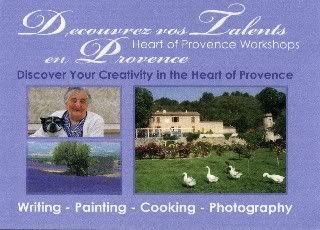 Heart of Provence Workshops now offers cooking a la Provence Live in a 16th century chateau and learn the arts of authentic Provence cooking. Or mix and match with some cooking classes and painting or writing workshops. Includes all meals, personal excursions, and making friends for life.
See http://heartofprovenceworkshops.com for details about fall 07 and summer 2008 schedule or email provenceworkshops@gmail.com.