Tuesday, September 4th, 2007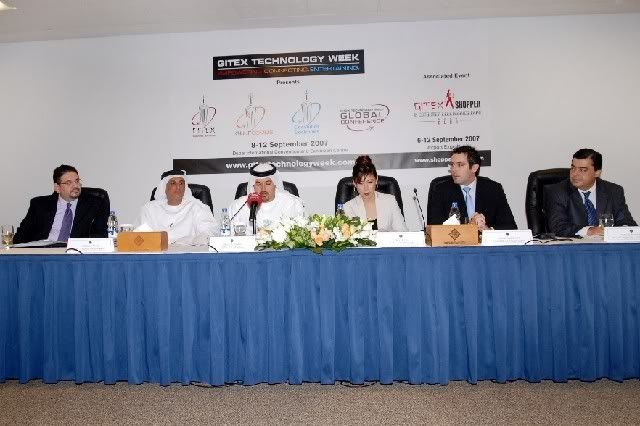 United Arab Emirates, 3rd September 2007- GITEX Shopper returns from 6-12 September with a stunning line-up of cutting-edge technology and spectacular offers. The 17 th edition of the exhibition at the Airport Expo Dubai will offer an outstanding combination of value and innovation to meet the Gulf's increasing appetite for electronic consumer goods.
Reflecting the UAE'S continuing economic growth and the global strength of the consumer electronics industry, GITEX Shopper 2007 will be considerably bigger and will be supported for the second consecutive year by Gold Sponsor, HP.
GITEX Shopper 2007 will take place across 26,000 square metres of the Airport Expo, an 18% increase in space from last year. The Show will feature over 170 exhibitors and more than 20,000 products are expected to be represented at the show.
This year will see many new exhibitors such as Microsoft, Toshiba, National Stores, Axiom, Emax, Bhatia Brothers, Al Kamda and Lulu Centre along with retail giants like Aptec Mobiles, RadioShack, Jumbo Electronics, Jacky's Electronics, Plug-Ins, Sharaf DG, Kite Trading, Emirates Computers, CompuMe, Cellucom, Oasis Enterprises, Cosmos and Grand Stores.
To make their mark at their debut participation in GITEX Shopper, Microsoft will launch the Xbox 360 Elite this year at the Show. They will also have a visitor lounge with gaming consoles where visitors can participate in interactive entertainment.
"This year the region's continuing economic growth combined with the development of the consumer electronic industry have set the scene for a truly exceptional GITEX Shopper," said DWTC Director General, Helal Saeed Al Marri.
The enlarged show will feature bundled offers, competitions and fun interactive events giving visitors the chance to win exciting prizes.
Promotions bringing an extra buzz to the show include the high-value GITEX Shopper 2007 Mega Draw. This gives visitors the chance to win prizes including home theatres, PCs, laptops, cameras, mobile phones and a Peugeot 207 1.6 litre Coupe Cabriolet.
In a Scratch & Win promotion by Network International, visitors can also win stunning on-the-spot prizes including colour printers or a selection of high-value items including airline tickets to London, Paris, Hong Kong, Cairo, Colombo and Istanbul chosen by spinning a wheel.
The excitement continues with a karaoke contest with chances to take away exciting prizes and gifts. Visitors with a talent for dancing can also win instant prizes at the JVC Car Audio Promotion. A dedicated dance floor provides the stage for visitors to practise their moves while discovering JVC's range of car audio equipment.
This year, to further enhance the visitor experience, shoppers can buy their tickets on-line through Time Out Tickets or through selected retail outlets from now until the end of the show. Also, in light of offering customers ultimate convenience and in the aim to provide the shopper with more time to shop, free shuttle buses will run to and from Lulu Centre Karama, Qusais and Deira branches and Al Falah Plaza Sharjah to Airport Expo Dubai. Additional free car parking will be available adjacent to the Shaikh Hamdan Mosque opposite Gulf Indian School with free shuttle bus service to the venue.
GITEX Shopper 2007 will cover a comprehensive range of consumer electronic goods: laptops, PCs, mobile phones, cameras, gaming & entertainment, consumer electronics, home entertainment, office automation and a host of other products. This year the show is also introducing the new category of "Leisure and Lifestyle Electronics" to reflect the extension of consumer electronics into new aspects of modern life.
The Show will be open from 6 – 12 September from 11am – 10pm. On Friday, the Show will be open from 3pm – 10pm.
Tickets are available from Time Out Tickets (www.timeouttickets.com/Tel: 800 4669) at a promotional rate of AED 20 per person, per entry right until the end of the show. Tickets will also be sold at the venue at AED 25 per person, per entry.

About GITEX Shopper & Consumer Electronics Expo
Website: www.shopper.gitex.com
GITEX Shopper & Consumer Electronics Expo has firmly established itself as the single largest and most successful retail platform for technology in the Middle East. Last year this high-energy event attracted over 130,000 visitors and reported sales in excess of AED 84 million. The exhibition attracted a participation of 157 exhibitors showcasing over 15,000 products.
GITEX Shopper & Consumer Electronics Expo 2007 will be held in association with GITEX TECHNOLOGY WEEK which is made up of the following components:
GITEX Business Solutions – The Leading IT Trade Event for Enterprise and SMBs for the Middle East, Africa and South Asia
GULFCOMMS The Largest International Telecommunications Trade Event for Mobile, Fixed, IP and Satellite for the Middle East, Africa and South Asia
Consumer Electronics The Premier International Trade Event for Consumer Electronics, IT Systems, Components and Peripherals for the Middle East, Africa and South Asia
GITEX Technology Week Global Conference

About Dubai World Trade Centre (DWTC)
Website: www.dwtc.com
As the organiser of GITEX Shopper & Consumer Electronics Expo 2007, Dubai World Trade Centre offers over 27 years experience of delivering world-class events in the Middle East, providing local, regional and international exhibitors with unmatched expertise and in-depth market knowledge. Our team organises 15 of the largest and most successful international and regional shows in the Middle East, providing an ideal platform for business development in the region.
Our commitment to ongoing innovation within the exhibition industry has supported the rapid growth and development of a wide range of business-to-business and business-to-consumer shows, and delivered consistent satisfaction to exhibitors and visitors. DWTC works with the leading trade bodies and industry associations to ensure that all exhibitions deliver full value and are built upon the real needs of their specific sector.
For more information, contact:
Khalil Majdalawi
Tamra C2
Tel: +9714 2951177
Fax: +9714 2951188
Email: khalil@tamra-c2.com
Sherine Retna
Dubai World Trade Centre
Tel: + 9714 3086085
Fax: + 9714 3188607
Email: sherine.retna@dwtc.com