Archive for the 'shipping' Category
Sunday, April 24th, 2011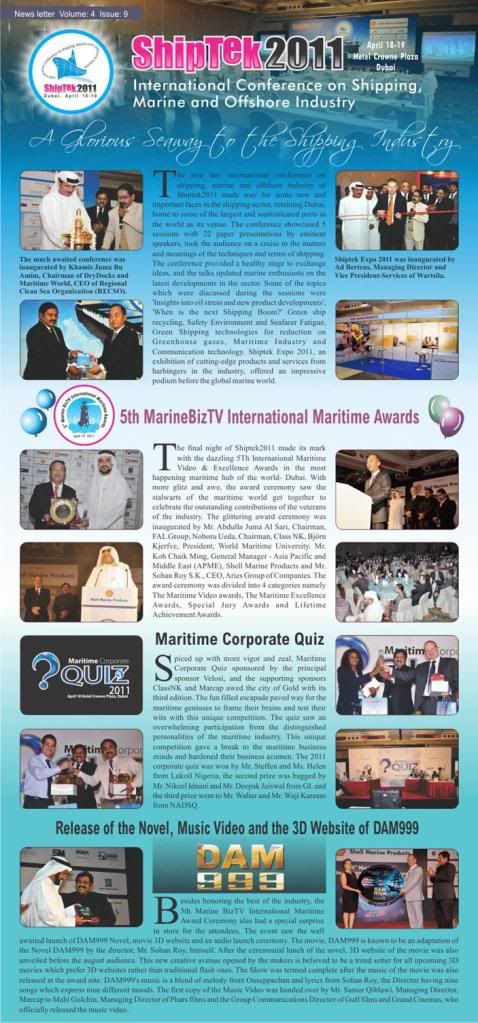 Tuesday, March 22nd, 2011
ShipTek 2011 is proud to announce its association with Shell Marine Products as the Gold Sponsor.Shiptek 2011 ,4th edition of ShipTek series scheduled on the 18th and 19th April 2011 at Hotel Crowne Plaza ,Dubai. With the partnership of Shell Marine Products, ShipTek 2011 has become the most sought-after Marine event in terms of quality and content. ShipTek 2011 is a renowned international event on Shipping, Marine and Offshore Industry comprising of three integral segments.
1. An International Conference on Marine, Shipping and Offshore Industry.
2. An expo
3. 5th MarineBiz TV International Maritime Award Nite.
For the recent updates on the event, please visit www.shiptek2011.com
Shell Marine Products:
Shell Marine Products is a global sales and marketing business supplying marine fuels, lubricants and technical support services to the marine industry. Supplying over 100 grades of marine lubricants and 20 different types of marine fuel to power diesel engines, steam and gas turbine vessels Shell serve more than 15,000 customer vessels, ranging from large ocean going tankers to small fishing boats in above 600 ports in more than 50 countries. Shell's Marine and Power Innovation Centre (MPIC) in Hamburg, Germany, simulates harsh working conditions to ensure that Shell fuels and lubricants achieve optimal performance on an actual day-to-day basis. This world-class facility gives Shell an advantage in the development of new products and the improvement of existing ones.
For more details, please log onto: www.shell.com/marine
Tuesday, October 12th, 2010
Two day conference examining the most successful bunker fuel strategies
On 1st & 2nd of February 2011 Fuel Purchasers, Bunker Traders & Managers, Managing Directors, General Managers, Fleet Managers, Vice Presidents and HSE Managers will convene in Dubai, UAE, to examine the most successful bunker fuel management strategies.
This 4th installation of a series of highly successful Bunker Fuel Management executive gatherings which over the years managed to provide a highly commercial platform for ship owners, fuel suppliers and other key stakeholders to share ideas and actively discuss the most prominent issues of the industry.
Day one will start with an address by Secretary General of the International Bunker Industry Association moving on to an in-depth review of the bunker fuel transactions from both buyer and seller perspective while also analysing the risks for the parties involved. Second half of the conference day is dedicated a to a highly anticipated keynote presentation by the Head of the Chemical and Air Pollution Prevention Section from IMO on recent developments in the IMO regulations affecting the bunker industry followed by the shipowners' perspective.
Day two will explore the most cost-effective ways of addressing environmental challenges followed by a presentation addressing quality issues on marine fuels and the best ways of managing disputes. The days' presentations will conclude with the outlook of the opportunities for use of the alternative fuels in the maritime industry.
Both days include roundtable discussions, which will enable all attendees to engage in a productive dialog covering the issues which are of the outmost interest to the shipping community.
The event will be chaired by Ian Adams, Secretary General of International Bunker Industry Association. Confirmed speakers also include EivingVagslid, Head of the Chemical and Air Pollution Prevention Section representing IMO and Henrik Romland, Manager Commercial Operations from Stena Bulk and many more.
These are some of the testimonials from the past Bunker Fuel Management events organised by ACI.
Very good group thought-provoking – Principal Surveyor, DNV;
Very interesting – Principal Sales Executive, The Oxford Princeton Programme;
Thank you for a well organised conference with relevant topics and good speakers – SVP Marine Operations, Star Reefers UK Ltd
For further information including registration at the early bird rate and discounts for Supporting Partners' members and subscribers please contact:
Dimitri Pavlyk on +44 207 981 2503 or dpavlyk@acieu.net