Wednesday, April 25th, 2007
3rd Central Asia International Exhibition
"Everything for Hotels, Restaurants, Supermarkets"
26-28 April 2007
Atakent KBCC, Almaty
25 April 2007
www.horex.iteca.kz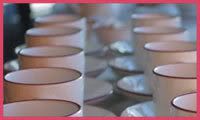 On 26-28 April 2007, Almaty will be hosting the 3rd Central Asia International Exhibition Hotel & Restaurant Expo Kazakhstan 2007 – Everything for Hotels, Restaurants, Supermarkets. This year, the exhibition will represent goods and services from the UK, Germany, Kazakhstan, Russia, and Turkey.
The life of a modern megapolis is difficult to imagine without the well-developed infrastructure of hotel and restaurant businesses.
Today, there are about 700 companies in Kazakhstan engaged in hotel business, more than 2,000 public catering facilities. According to statistics, up to three new establishments of A and B classes on average are opened every month.
In the environment of increasing competition, careful attention is given to specialised events, which introduce new developments in the industry. Therefore, more and more companies every year choose to take part in Hotel & Restaurant Expo Kazakhstan.
The exposition includes the following sections: Technological Equipment for Restaurants, Hotels, Supermarkets; Complex Rigging of Trade and Catering Enterprises, Hotels, Bakeries, Confectioneries; Fast Food Systems; Coffee and Coffee Makers; Equipment for Kitchens and Living Rooms; Tables Ware and Utensils; Interior Design and Finish; Furniture for Hotels, Restaurants and Clubs; Textile and Uniforms; Food and Beverages for HoReCa; Sound, Light and OHP Equipment; Automated Control of Restaurant and Hotel Business and Commerce; Vending Systems; Personnel Recruitment; Professional Cleaning and Personal Hygiene Products.
The programme of the exhibition includes a lot of specialised events such as the competition for the Best Supermarket of Almaty 2007; Experts in Coffee-Making will hold master classes Latte-Art for all interested public. The Kazakhstan Association of Hotels and Restaurants will conduct workshops for exhibitors and visitors: Modern State of Hotel Business in Kazakhstan. Problems and Achievements and Quality Management Systems for Hotels and Restaurants. Also Kazakhstan company Soft West will conduct workshops for 2 topics: 1. A Market of Information Systems for Pragmatic Retailers, Opportunities of DOMINO Software Solutions ; 2. NCR – The World's Leader in Retail Trade Automation Market: An Overview of Solutions on Offer, Novelties, AS @ R Teller System.
For those who seek employment in the hotel business, and for those who has vacant positions, there will be a special Fair of Vacancies.
The organisers of the exhibition are Iteca, an exhibition company of Kazakhstan, and its international partner ITE Group Plc (UK). ITE is known for its exhibitions in this field: WorldFood Moscow, Ingredients, EquipHotel Moscow, InterFood Saint-Petersburg, Hotel&Restaurant Expo Ukraine, InterFood Astana, AtyrauFood, etc.
The opening of Hotel & Restaurant Expo Kazakhstan 2007 is scheduled for 26 April at 12 am, near Pavilion 9 of Atakent Kazakhstan Business Co-operation Centre, Almaty.
Please address all your questions at: + 7 (327) 2583434, fax: + 7 (327) 2583444, website: www.horex.iteca.kz